Top 5 Location for Yoga Teacher Training in Thailand
Serene and beautiful Thailand is an extraordinarily peaceful place that relaxes you as soon as you arrive with its absolute delightful weather and its heartwarming guest friendly aura. There are many yoga learning centers available at different locations with diverse yoga techniques, and no two courses are the same. Thailand offers a delightful and peaceful landscape, leaving your body and mind rejuvenated, relaxed, and re-energized. The whole experience will make your visit unforgettable. Enjoy your teacher training program while eating healthy and by making the most of the sun. The delirious appeal of this place makes the visitors oblivious to its calm places, yogic spots, natural wildlife parks, and the alluring temples.
Below are some of the best destinations, which will make you believe that Thailand is the ideal place to practice yoga. It has made its way to the top in the best destination for yoga practitioners. No wonder why yogis all over the world, come to Thailand to experience the beautiful journey of yoga and self-healing.
Destinations for Yoga Teacher Training in Thailand
1. Chiang Mai -
It is one of the largest cities in Northern Thailand, regarded as a "Rose of the North". It's sweeping beauty, breathtaking waterfalls, massive mountains, and surrounding calmness has stolen many hearts. Due to the peaceful vibes and flourishing nature of this town, reconnecting with the self and practicing yoga is doubtlessly the best experience here. There are multiple yoga studios here with a solid set of foreign and local teachers that work around the town. The yoga centers here highlight the simple living and laidback lifestyle of this place. It is a dream place for a yogi to truly live the experience of yoga. Besides yoga, it also offers lip-smacking food, thriving community of wellness and health, and incredible scenery. Thus it is an ideal place in Thailand for a yoga teacher training program.
2. Koh Phangan -
It is a hot spot for yoga studios, detox centers, meditation centers and is probably the best place to practice yoga on a budget in Thailand. It is an island blessed with calm turquoise sea, impressive cliffs, and swaying palms. Staying at the Koh Phangan Island enveloped by nature and the mellow temperature helps you feel at ease. Leisure homes and energetic yoga spaces like the Sanctuary at Haad Tien and the Tea Temple make for a tranquil place to get along with other yogis for sessions, workshops, and therapies, where you can discover a new bond of friendship with the other yogis. It is the best place in Thailand where yoga energy is free-flowing. Here you can find various yoga centers with highly experienced teachers and some from the traditional Indian background to satisfy your love for the eastern yoga practices in Koh Phangan. Different Yoga centers have different yoga sessions, spiritual talk, and healing therapies that allow you to rejuvenate, relax, and reconnect with your soul and body.
3. Koh Samui -
Whether you are adventuring in the lush green jungles, dozing in the hammock, comforting on a silken sandy beach, overlooking a calm sea or experiencing wellness in a luxurious spa, this island has it all covered. There is no better way to feel refreshed than with yoga in Thailand , and this island is the best island that is overflowing with wellness, health, and yoga. Here you can meet with the best professionals at yoga studios, leisure homes offering yoga, herbal treatments, chakra-balancing techniques, etc.., to tail off the aches of tiresome life and to enrich a deep sense of serenity. The heavenly yoga destination of the Sanctuary in picturesque Kon Samui is famous for its yoga sessions, and a wide range of simple yet delicious Thai food to its exotic regional seasonings.
4. Hua Hin -
This beautiful destination is where the sea meets the city. Here you will find lively ambiance, excellent accommodations, international cuisine attracting many tourists from across the globe. There are numerous yoga centers with daily classes of asana and meditation where yoga lovers can learn different forms of yoga styles as well can spend some time with oneself. The yoga centers of this place are a great way to enjoy the appetizing seafood prepared by professional chefs and also unwind in a calming atmosphere of this place. You can also take this as a break to detox your soul and body with nourishing dishes while enjoying the healing experience of massages.
5. Bangkok -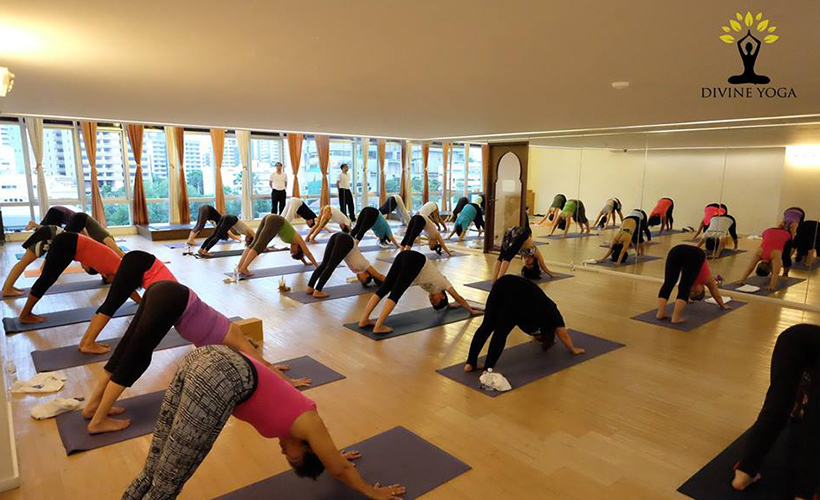 It is the capital of Thailand. Bangkok is not the first place you think of when undertaking yoga practices. It is natural to think that way because it is a place full of bustling sounds and full of chaotic crowd. However, this capital city provides the best yoga studios with exceptional facilities and that too, quite under the budget. Here you can find yoga centers that offer diverse yoga practices through their team of well-known qualified yoga teachers. Along with yoga centers, it also offers many healing therapy centers and massage parlors that are just perfect to untie you from a frantic day. Bangkok is the most recommended place for yoga lovers to practice yoga as it is the place of historical spots and golden shining temples like Wat Arun, Wat Pho, Wat Phra Kaew, and many others. The enchanting sculptures, lush green scenery, fascinating inscriptions, and imposing beauty of these places excite the eyes and soul in unbelievable ways.
These above destinations should always be on the list of every yoga lover as this place offers some of the finest yoga centers offering authentic yogic teachings (Note: Describe the places like Chiang Mai, Phuket, Koh Phangan, etc.)